Winning Chili Recipe from Linly Stowe and Tadayoshi Kawawa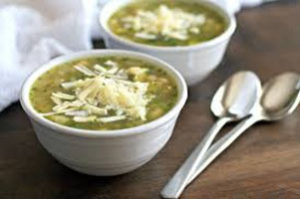 Cilantro Chili
4 cloves of garlic
2 tbs olive oil
1 bunch of sliced green onions
4 oz chopped green chilies
1 tsp oregano
1 tsp ground cumin (I always put more cumin)
2-15 oz cans white beans (cannellini, northern, navy)
10 3/4 oz can cream of chicken soup
10 3/4 oz can chicken broth
1/2 cup water (or less; thin to taste)
2-3 cups diced cooked chicken (leftover Thanksgiving turkey also works!!)
1 tsp red pepper
1/2 – 1 bunch of cilantro
1 cup Monterey Jack Cheese
Saute garlic in olive oil over medium heat for 1 minute, then add next 4 ingredients, then add chilies. Once hot, combine with beans, soups, and water in a crock pot. Heat until hot, then add cheese and cilantro. Once the cheese is melted, the chili is ready to serve!
Seasoned Crackers
3/4 cup oil (I use olive oil)
1 tsp dill
1 tsp garlic salt
1 package of ranch dressing mix
1 1/2 – 2 packages of oyster crackers
Mix first 4 ingredients and pour over oysters crackers (either in a bowl or on a cookie sheet.) Bake at 250 for 15 minutes, then remove from over and stir. Bake for an additional 15 mintues.