About Us!
University Congregational Church is a progressive Christian church that holds the intellectual pursuit of truth equal to the emotional aspects of spirituality. On any given Sunday you will encounter a wide variety of people who hold various different beliefs. It is not odd to have a former Catholic on one side of you with an avowed atheist on the other. All are welcome in this community of Christ. We would love to see you at a worship service, Sunday mornings at 10:30 a.m., so you can see for yourself where your spiritual path might lead. Or check our our educational page and see if there is something of interest for you there.
University Congregational Church held its first informal meeting in April of 1983, and officially organized soon thereafter. This is a covenant church in which the congregation vows, in the love of truth, and in the name and spirit of Jesus Christ, (to) join with one another to worship and to live so that peace, justice and brotherhood may prevail in the world. The church embraces an inclusive philosophy, believing that a variety of approaches are welcome in considering the life and teachings of Jesus.
The church's name stems from the fact that the first pastor also was a professor at Wichita State University as were a number of its charter members. Wichita State University has a Congregational heritage, with its first four presidents being Congregational pastors. It is the largest university in the nation stemming from Congregational roots.
---

Church membership consists of 270 individuals. This represents a professionally and philosophically diverse membership. The church holds one Sunday worship service, with attendance averaging 150.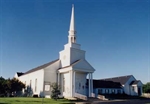 The church is housed in a New England Colonial-style structure built in 1987 with a Fellowship Hall added in 1991. In March of 2010 the church opened a new office complex behind the Fellowship Hall wing.
Rev. Dr. Robin McGonigle, Senior Minister


Rev. Dr. Robin McGonigle, Senior Minister, is a graduate of Phillips Theological Seminary (M.Div. and D.Min.), an associate member of the Jesus Seminar, a gifted speaker and committed advocate for social justice. Robin enjoys teaching, preaching and facilitating discussions on faith, theology and social issues To email Robin: robin@ucchurch.org