Our Sunday Service of Worship, led by Dr. Robin McGonigle, begins at 10:30 a.m. in our sanctuary.
Most often our service of worship consists of a welcome and announcements, congregational singing, prayers, choral and instrumental music, a brief children's message and a sermon in the progressive Christian tradition. At important times in the life of our church, we also celebrate Communion.
Children are always welcome to attend worship, and have the option of departing for Sunday School or our infant nursery after the children's message. A teacher will wait at the main back door of the sanctuary to lead them to our lower-level classrooms.
Whether you are a member or visitor, we encourage you to join us for Fellowship Coffee immediately after worship is concluded. And visitors, you will see that our members wear name tags to make it easier for you to get to know us.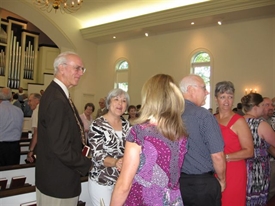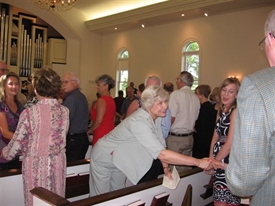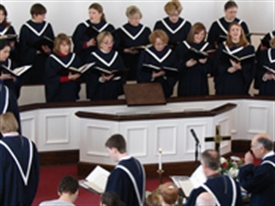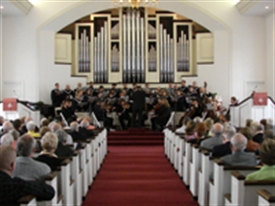 You will find us a most welcoming congregation!
Music is provided by a 30-40 member choir, a stunningly-displayed Schlicher pipe organ, a Yamaha concert grand piano, and pianist-organist Helen Griffin. They perform under the direction of Dr. Michael Hanawalt, who also serves the Director of Choral Activities at Wichita State University, where he conducts the Concert Chorale, the Women's Glee Club, and teaches courses in conducting and choral literature. Bob Scott, who retired in the fall of 2014 (after 28 years of faithful service), remains a member of our choir and serves as Minister of Music Emeritus.