UNIVERSITY CONGREGATIONAL CHURCH (UCC)
Special Event Guidelines
(Rehearsal dinners, Anniversaries, Birthdays/Wedding Receptions)
Click here for printable copy of this information
Thank you for considering UCC for your up-­coming event. We are committed to provide a memorable occasion for you and your guests in a welcoming atmosphere.
Eligibility – The reception is planned for members of the church, their son or daughter, their mother, father or sibling. Non-­‐members are also invited to use our facilities noted their e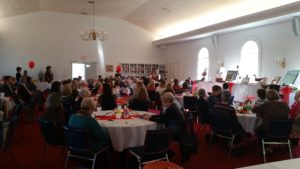 vent fall within our guidelines.
Facility – Fellowship Hall
UCC is handicap accessible
UCC is a non-­‐smoking facility
Fellowship Hall accommodates 150 persons at a seated event. 250 otherwise
Tables and linens are available
Kitchen facilities are available– food set-­‐up area (no cooking allowed), dishes, serving pieces, refrigerator: must be supervised by a Guild member
Audio equipment can be requested
All Events –
Arrangement of room coordinated with Women's Guild
Decorations allowed on tables and window sills only
Catered foods, decorations and all service ware must be delivered at least one hour prior to the event
Alcohol (wine, champagne, beer) may be provided by guest, but is served by Guild members. UCC reserves the right to limit alcohol consumption.
Fees – set for a 3-­‐hour rental except for weddings which is for 4 hours Rehearsal dinners and other parties or gatherings
Wedding Receptions
Room Rental Rates
*Flat rate includes – table linens, dinner service, serving trays, coffee/tea service, buffet service and kitchen clean up. If disposable plates, glasses and etc. are used, the flat rate is reduced by $50.00. Cutting/serving cake is also included at wedding receptions. Special arrangements may be made prior to the event (at least 2 weeks prior) and priced accordingly. All Fire and Safety regulation will be strictly enforced.
January 2017